We supply the largest range of low maintenance and aesthetically pleasing aluminium fencing in the UK, offering many classic and contemporary design options, allowing you to create a privacy in the perfect style for your property. Unlike wood or other metals, aluminium will not rot, splinter or warp. It is naturally rust resistant, requiring minimal maintenance, and is suitable for commercial or domestic applications alike.
Marano Aluminium Fencing
Our aluminium fencing offers long lasting, low maintenance, easy to work with fencing solutions that are also lightweight. We now have a total of 6 contemporary styles of aluminium fence/railings. Adding even more style to what is already one of the most extensive ranges of stocked metal fences available in the UK.
Boards and slats are available in 5 different finishes, 2 realistic oak wood effects and 3 contemporary colours basalt grey (RAL 7012), pebble grey (RAL 7032) and serengeti sand (RAL 1019). We even offer a mill finish option that can be coloured to any choice you desire allowing you to match the colour of your gates/ fences and window frames, etc.
Marano is easy to install and produces stunning results that will last for years to come.  The boards and slats can also be easily incorporated into steel gate frames and fixed to steel posts. In fact, with the easy to fix angle system, they can be fixed to almost any post you want, creating that privacy that is requested by so many clients these days.
Examples Of Elements Design Options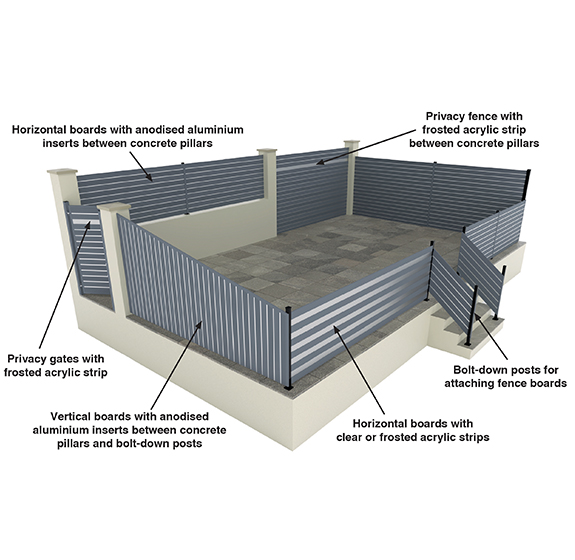 CONTACT US
For enquiries please complete our short feedback form and we'll get in touch shortly, or call us – 01708 398077.
Note: Your details are kept strictly confidential as per our Company Privacy Policy.